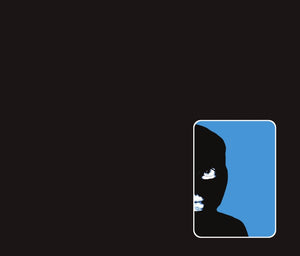 4CD BOX SET - LIMITED TO 500
Features material not included in the vinyl box including Choose Lose [early mix], Let's Hang Around The Shopping Centre [7" mix], two or three more alternative mixes, and a couple of totally superfluous expletiveless single mixes.
But mainly contains:
- The original www.tism.wanker.com album.
- The bonus songs from "Att: Shock Records Faulty Pressing Do Not Manufacture" CD
- Single mixes and b-sides from wanker era singles.
- Over a dozen never previously released songs (other than on the vinyl box).
- Alternative mixes and radically different versions of songs from the www.tism.wanker.com sessions
- A 64 page booklet featuring lyrics for all songs in the box.
Please note, the CD wallet and booklet come in a slipcase, NOT a hard box.
CD One
[THERE'S GONNA BE] SEX TONITE
WHATAREYA?
DUMB 'N' BASE
THUNDERBIRDS ARE COMING OUT
BEEN CAUGHT WANKIN'
DENIAL WORKS FOR ME
THE PARABLE OF GLENN MCGRATH'S HAIRCUT
I MIGHT BE A ****, BUT I'M NOT A ******* ****
YOB
GREAT EXPECTORATIONS
A HARD-EARNED THIRST NEEDS A BIG COLD BEER, BUT I DRINK TO GET PISSED
THE MEN'S ROOM
KATE – FISCHER OF MEN
MY BRILLIANT HUNTINGTON'S CHOREA
JULIUS SEIZURE [ACT III, SCENE II, VERSES 73-118]
NEIGHBOURS – EVERYBODY LOVES GOOD NEIGHBOURS
REBEL WITHOUT A PAUNCH
THE ONLY THING STOPPING ME FROM BEING HAPPY IS THAT I'M NOT MORE DEPRESSED
 CD Two
DESCRIBE THE WORST HEADJOB I'VE HAD? FANTASTIC!
THE LAST AUSTRALIAN GUITAR HERO
THE APOLOGY OF THE THAI DRUG RUNNER
OPPOSITE DAY
I GO OFF
UNTZ
DROP THE 'TUDE
CHOOSE LOSE
IF YOU'RE UGLY FORGET IT [1996 DEMO]
AUSTRALIA, THE WORLD'S SUBURB [1996 DEMO]
ALL MY FAVOURITE FOOTBALLERS ARE CRIMS [DEMO]
I ABHOR THIS SENSELESS WASTE OF VIOLENCE [DEMO]
CLASSIC ROCK [DEMO]
LET'S HANG AROUND THE SHOPPING CENTRE [ENGINEROOM MIX]
BASH IT UP YOUR GINGER [WRITING SESSION]
THE SONG OF THE FAT LADY [IT AIN'T OVER 'TIL] [DEMO]
PROFESSOR DERRIDA DECONSTRUCTS
YA GOTTA LOVE THAT
 CD Three
YOB [SINGLE MIX]
THUNDERBIRDS ARE COMING OUT [5! 4! 3! 2! 1! MIX]
SHUT UP, THE FOOTY'S ON THE RADIO [RADIO EDIT]
UNTZ… UNTZ… UNTZ… UNTZ… UNTZ… UNTZ… UNTZ… UNTZ… UNTZ…
WHATAREYA? [GRATUITIOUS PROFANITY-LESS MIX]
I MIGHT BE A ****, BUT I'M NOT A ******* **** [KARAOKE MIX]
GREAT EXPECTORATIONS [EARLY MIX]
CHOOSE LOSE [EARLY VOCAL MIX]
LET'S HANG AROUND THE SHOPPING CENTRE [7" MIX]
DROP THE 'TUDE [ALTERNATIVE MIX]
BEEN CAUGHT WANKIN' [EARLY VERSION]
THE PARABLE OF GLENN MCGRATH'S HAIRCUT [EARLY VERSION]
DESCRIBE THE WORST HEADJOB I'VE HAD? FANTASTIC! [ALTERNATIVE MIX]
DUMB 'N' BASE [EARLY VERSION]
THE APOLOGY OF THE THAI DRUG RUNNER [ALTERNATIVE MIX]
A HARD-EARNED THIRST NEEDS A BIG COLD BEER, BUT I DRINK TO GET PISSED [EARLY VOCAL TAKE]
DENIAL WORKS FOR ME [EARLY VOCAL TAKE]
THE MEN'S ROOM [ALTERNATIVE MIX]
THE MEN'S ROOM [INSTRUMENTAL CODA]
YOB [4:40 VERSION]
 CD Four
BEEN CAUGHT WANKIN' [WRITING SESSION EDIT 1]
THE PARABLE OF GLENN MCGRATH'S HAIRCUT [EARLY VOCAL TAKE]
DROP THE 'TUDE [ALTERNATIVE VERSION]
OPPOSITE DAY [EARLY VOCAL TAKE]
I MIGHT BE A ****, BUT I'M NOT A ******* **** [WRITING SESSION EDIT 1]
ONE IN ALL IN [DEMO 1 & 2 EDITS]
WICKED SICK [DEMO EDIT]
[THERE'S GONNA BE] SEX TONITE [WRITING SESSION EDIT 1]
THE APOLOGY OF THE THAI DRUG RUNNER [EARLY VOCAL TAKE]
SHUT UP - THE FOOTY'S ON THE RADIO [DEMO VERSION]
WHO SHOULD COMPERE WHEEL OF FORTUNE [DEMO]
DUMB 'N' BASE [INSTRUMENTAL EDIT]
BILDUNGSROMAN BY THE FISHSHOP, LATE SATURDAY NIGHT [DEMO EDIT]
THE LAST AUSTRALIAN GUITAR HERO [EARLY VOCAL TAKE]
BEEN CAUGHT WANKIN' [WRITING SESSION EDIT 2]
I MIGHT BE A ****, BUT I'M NOT A ******* **** [WRITING SESSION EDIT 2]
[THERE'S GONNA BE] SEX TONITE [WRITING SESSION EDIT 2]
YOB [ABANDONED SINGLE EDIT]
POX VOPILI [DEMO]
DROP THE 'TUDE [EARLY VERSION]
WHATAREYA? [WRITING SESSION EDIT 1]
DENIAL WORKS FOR ME [DEMO]
THUNDERBIRDS ARE COMING OUT [WRITING SESSION EDIT]
LET'S DO GEORGE COSTANZA [DEMO EDIT]
[THERE'S GONNA BE] SEX TONITE [WRITING SESSION EDIT 3]
DENIAL WORKS FOR ME [EARLY VOCAL TAKE]
[THERE'S GONNA BE] SEX TONITE [WRITING SESSION EDIT 4]
WHATAREYA? [WRITING SESSION EDIT 2]
THE MEN'S ROOM [EARLY VOCAL TAKE]
PROFESSOR DERRIDA DECONSTRUCTS [EARLY VERSION]
I MIGHT BE A ****, BUT I'M NOT A ******* **** [RAW RUN THROUGH]
[THERE'S GONNA BE] SEX TONITE [WRITING SESSION EDIT 5]