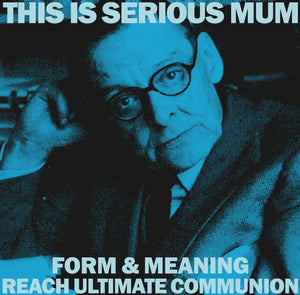 It's all very nice proofreading the text on the inside of the wallet, but perhaps a quick look at the front might be a good idea. Rather than hide from this monumental fuck-up, we celebrate our own incompetence with this limited edition release.

The majority of these CDs were destroyed. These are all that is left.
TISM's first longform release was Form And Meaning Reach Ultimate Communion, the follow up to their debut single Defecate On My Face. Initially intended as a single, it grew to seven songs which (mostly) constituted their short, somewhat arty live performance set from that era, plus the more experimental "Take Your Love" (with the original version restored).
The CD contains 14 bonus tracks including the debut single, a previously unavailable recording session, and a live recording of their legendary Triple R Battle Of The Bands-winning appearance. 
1. Mistah Eliot - He Wanker, 2. A Faceful Of Divertamenti, 3. Kill Yourself Now And Avoid The Rush, 4. Take Your Love, 6. Root, 7. All Ordinaries Index, 8. I'm Into Led Zep
CD Bonus:
Defecate On My Face Single 9. Defecate On My Face, 10. Death Death Death, 11. The Art-Income Dialectic
Aztec Studios Demo Sessions 12. When You're Happy And You Know It Kill Yourself, 13. If You Want The Toilet, You're In It, 14.Root, 15. The Back Upon Which Jezza Jumped, 16. Mistah Eliot - He Wanker
1985 3RRR Battle Of The Bands 17 When You're Happy And You Know It Kill Yourself, 18. Death Death Death, 19. The Back Upon Which Jezza Jumped, 20. Acrid, 21. Clarse Distinction, 22. Defecate On My Face