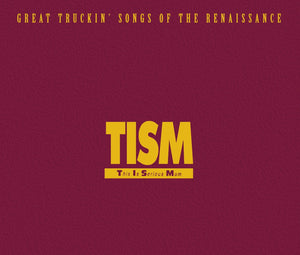 TISM's ARIA winning #1 charting debut album finally re-released after twenty years*

DOUBLE CD IN GATEFOLD CARD WALLET WITH GOLD FOIL PRINT. 
2ND CD CONTAINS 40 MINUTES OF PREVIOUSLY UNRELEASED MATERIAL.
An amazing album in so many respects but don't take our world for it – see what the critics had to say:
"Completely tasteless and musically mediocre" Allmusic
"Musically, TISM have always been gimmicky and terrible" Sputnik Music
"If it's true that great pieces of art have a timeless quality about them, this this piece of crap almost fails on every count." Some dickhead on RateYourMusic
CD1 1. I'm Interested In Apathy, 2. Saturday Night Palsy, 3. The Mystery Of The Artist Explained, 4. If You're Creative, Get Stuffed, 5. 40 Years – Then Death, 6. Anarchy Means Crossing When It Says "Don't Walk", 7. The Ballad Of John Bonham's Coke Roadie, 8. Choose Bad Smack, 9. The Foster's Car Park Boogie, 10. Martin Scorsese Is Really Quite a Jovial Fellow, 11. I Drive A Truck, 12. Defecate On My Face, 13. Kill Americans, 14. Volare, 15. The Penis Is Mightier Than The Sword, 16. Slave To The Economist, 17. I Shit Me, 18. Doug Parkinson Sings Christie Allen, 19. Gimme Gimme Nervous Breakdown, 20. The Ballad Of The Semitic Nazi, 21. And The Ass Said To The Angel: Wanna Play Kick To Kick, 22. The Mordialloc Rd Duplicator, 23. Jack Elliot's Turf Whinge, 24. Ezra Pound - Axe King, 25. Johnny To B. Or Not To B. Goode 26. Morrison Hostel
CD2 1. This CD Is Not As Good As The Other One
*
Great Truckin' Songs Of The Renaissance
did not actually go to #1 or win an ARIA.