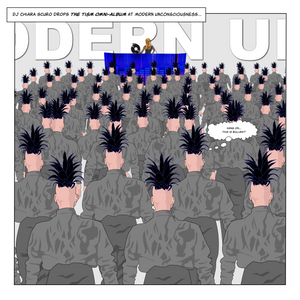 THE TISM OMNI-ALBUM 
DELETED
Why pay for multiple TISM albums in vinyl format when you can buy only one item? The Omni-Album is an all-purpose 12" album cover just like any other record cover featuring cover art and song listings compiled from all six TISM album releases. But even better, there is no vinyl. With its lesser dynamic range, worse signal-to-noise ratio, inferior channel separation, variation in playback speed, limited sound capacity, and susceptibility to heat, dust and damage, vinyl is an inexplicably re-emerging gimmick for pox-addled hair-lipped shut-ins who are trying too hard to compensate for their goitered lives. 

With the TISM Omni-Album, you can hold an album cover in your hands, but listen to TISM's music in any non-analogue format you choose. (These formats are available for separate purchase.)
Why put up with second best? The Omni-Album gives you the vinyl experience, without the crap sound.
THIS IS A JACKET ONLY. THERE IS NO DISC INCLUDED.